R & R Materials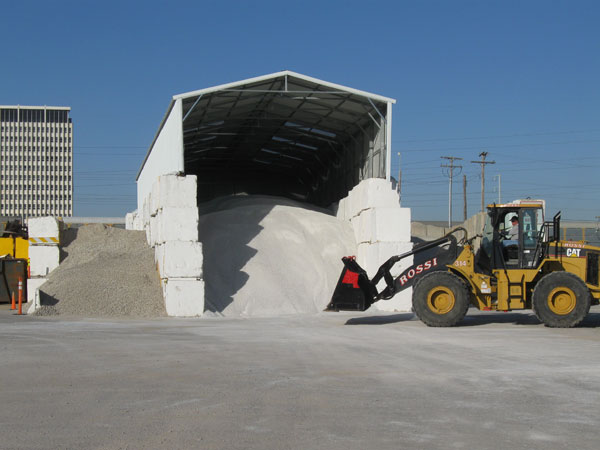 R&R Materials is a division of Rossi Contractors specializing in the disposal and recycling of construction materials. Our technologically advanced and fully certified concrete recycling and aggregate production plant is located in Northlake, Illinois.
Recycled aggregate produced at the facility bears State of Illinois inspection certificates and is proudly used by a large group of the area's environmentally sensitive contractors.
R&R also provides on-site recycling services with portable concrete crushing and topsoil pulverizing equipment. Significant economies of scale are achieved as a result of mobile recycling, further reducing costs and environmental impact. The production, use and provision of recycled materials are just a few of the ways Rossi Contractors is assuming the lead in environmentally responsible construction techniques and practices, as it has since 1948.
Check out our price list below or contact us at: with questions about material dumping or pickup.
BROKEN CONCRETE DISPOSAL FEES & SALES
EFFECTIVE 11/18/22
MINIMUM CHARGE IS $25.00
June 15, 2022
Dear Valued Customer,

As you know, we continue to experience significant economic challenges nationally and locally. Costs associated with transportation, equipment, and energy continue to escalate aggressively with no indication of subsiding, and these costs are rising daily.

Quoted jobs that have been accepted by the contractor before June 20, 2022 will be honored.

Sincerely,
Rossi Contractors, Inc.
CLEAN BROKEN CONCRETE:

DSCBC
Semi-Tractor Dump

NO DUMPING CONCRETE as of 11/28/22

D6CBC
6 Wheel Dump
D4CBC
4 Wheel Dump
D1CBC
1 Ton Dump



BASE MATERIALS:

CA-6
IDOT CA-6 Gradation crushed concrete, lab-tested for D Quality
$13.00/Ton
019CM06
IDOT CA-6 Gradation crushed concrete, IDOT-certified D Quality
$13.00/Ton
059CM06
IDOT CA-6 Gradation crushed concrete, IDOT-certified D Quality
$13.00/Ton
CA-6L
Limestone
$25.00/Ton
CA-7L
Limestone
$35.00/Ton
CA-1
Limestone
$35.00/Ton
CA-16
Limestone
$35.00/Ton



CLEAN FILL/ASPHALT (with the approved IEPA forms):

CFS
Semi-Tractor
$275.00/Load
CF6
6 Wheel
$250.00/Load
CF4S
4 Wheel or Smaller
$225.00/Load
ASTM GRADE 1 ROCK SALT:
(2 Ton minimum/picked up) $166.00/Ton
FACILITY NOTES:
**NOTE: Asphalt will be charged at clean fill rates. Please be advised that when dumping at Rossi Contractors Inc., only clean, broken concrete (no steel) will be accepted. Any loads containing wood, grass, trees or mixed loads will not be accepted. Contaminated loads will be rejected. Reloading fee of $100.00. NO EXCEPTIONS!

On days that it is raining, please call to make sure the dump site is open, prior to sending trucks to the dump.
We will not accept Heavy Reinforced Concrete, Cinder Block or Brick.

Due to new insurance regulations, Rossi Contractors will no longer load material on pickup trucks or on trailers not designed as haulers. We will no longer allow material to be loaded or unloaded by hand.
Hours: Monday-Friday 7:00am - 3:30pm
PAYMENT INFORMATION: Payment is expected Net 30 days.
Prices are based on Net 30 day payment terms. Invoices not paid within 30 days of the billing date will be charged 1.5% per month interest on the unpaid balance. Sales tax 10.0%.
We are accepting all Major Credit Cards.